Discover more from Double Take
Curated reads about product management, health technology, and digital media.
Take 07. Developing product judgement; a new kind of EHR; Snap Minis
+ new reader app for consuming newsletters?
Hi, welcome to this week's Double Take on product, health tech, and digital media. 
I can't recall when or how my personal email started turning into a "browsing/reading" platform of newsletters. There are two general types of newsletters: original content on specific topics where the writer is an expert in, and curated links on the topic-du-jour. Given this new habit, there seems to be a new category of "reader" products that consolidates newsletters in emails into a browsable, readable format. See Hey mail and Letters. What are your favorite newsletters?
Here's the most beautiful landing page/website of the week: Pitch. Is there a name for this wave of design-first, modular, and collaborative products?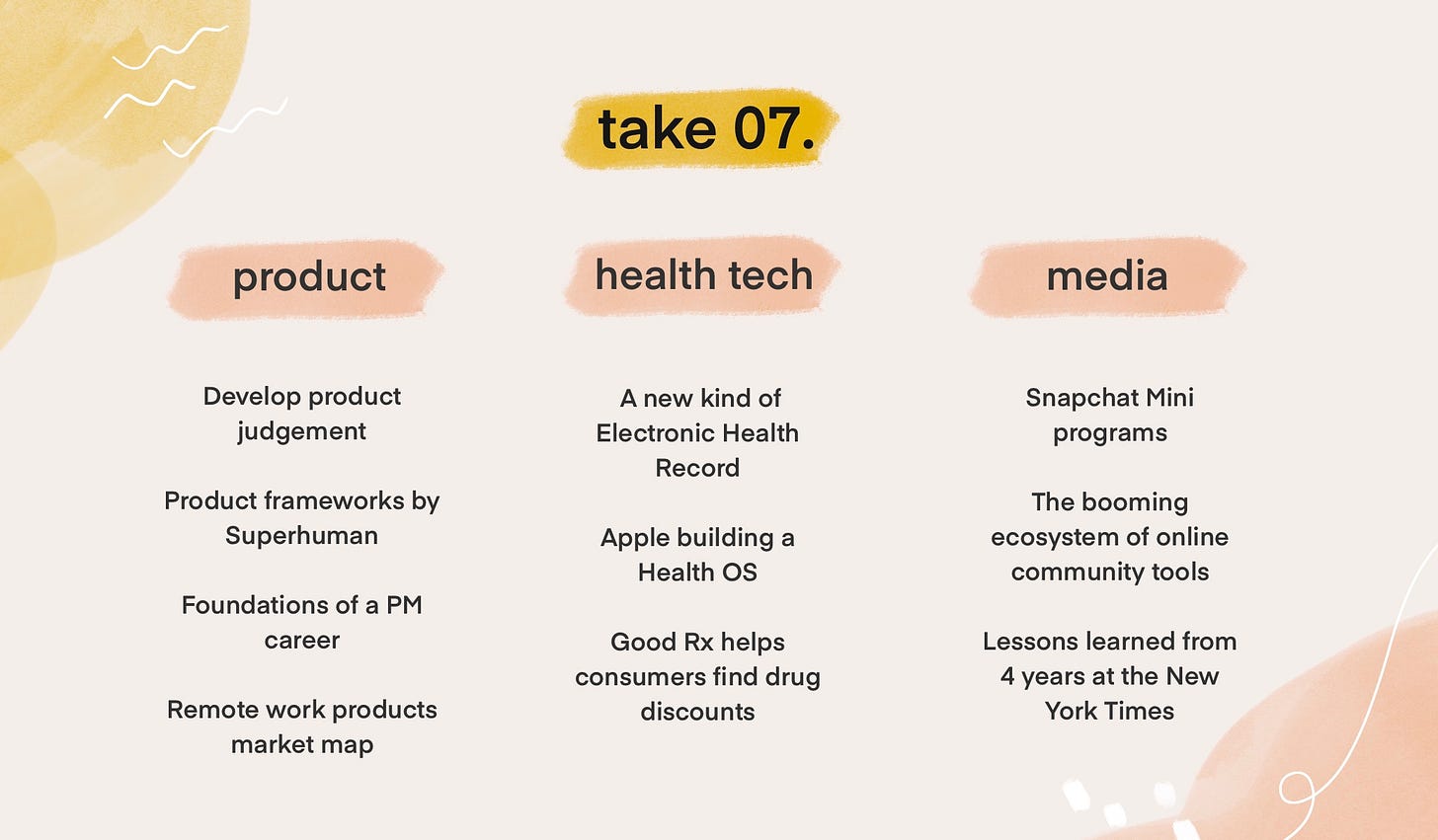 💻 Product
---
📠 Health Tech
A new kind of electronic health record. While EHRs now have a 96% adoption in hospitals and 86% in physician offices, there still persists aged challenges including poor usability, limited data discovery and interoperability. A meaningful redesign must include transitioning from being record-centric to plan-centric; from transaction-oriented to intelligence-oriented.

Apple's strategy of building a "health OS". Being privacy focused, Apple has the advantage of gaining favors with vendors. It has also enjoys a massive scale that's attractive for vendors to conduct research studies. This feedback loop gives Apple a health data moat. The hypothesis here is that Apple's strategy is to build a Health OS acts as the sole aggregator of health data from all devices, partners, and provides. More on what Apple's doing to capture the $3.5 trillion health care market.

GoodRx helps consumers find drug discounts. It built a $2.8 billion business, marketing towards the 28 million Americans who don't have insurance. 17 million of them use GoodRx every month to find the best prescription prices. It also recently purchased a telehealth start-up HeyDoctor, to provide consumers advice about their prescriptions. The company is profitable and has been growing 50%+ every year since inception. The rise in this type of consumer health companies signals the rise in consumer demand for transparency and access in the opaque healthcare system.
---
📣 Media
Snap Minis. Snap announced Minis at its developer conference last week. It's opening up to third party developers to develop mini programs integrated inside Snapchat, for example meditate with Headspace or buy movie tickets with Atom. The plan is for minis to help Snap expand its social experience to things like e-commerce. Fun fact, (this is important), Snapchat camera can now scan and identify plants and dog breeds.

The booming ecosystem of online community tools (130+ of them mapped here). From engagement tools to memberships, communities are growing niches that satisfy the need to be around and learn from like-minded people, with a much needed layer of filter compared to larger social platforms.

Looking Back on Four Years at The Times. New York Time's ex-CTO summarized learnings from four years at NYT as it went from 1 million to 5 million digital subscribers. Key accomplishments include bringing growth product thinking, experimentation, cloud migration, and performance culture.
---
If you liked this edition, share it with someone! Find me on Twitter.
-Christine