Discover more from Double Take
Curated reads about product management, health technology, and digital media.
Take 10. Ship work that matters; GPT-3 in healthcare; the unbundling of work
Welcome to this week's Double Take on product, health tech, and digital media. 
The CEOs of Apple, Google, Facebook and Amazon testified in Congress last week to defend big tech's position and business practices. Having Jeff Bezos, Mark Zuckerberg, Tim Cook, and Sundar Pichai at the hearing via Zoom provided effective optics of tech's immense power. Catch up here for a great summary with links and videos.
If you've seen enough examples of GPT-3 usage on Twitter, have a 3 minute read of this explainer to see how it works under the hood. A16Z also has a great episode explaining how GPT-3 works, why this is a breakthrough towards "general intelligence", and the language model itself vs. the API used in the Twitter demos.
New email service Hey shared the journey of how it was developed, from idea to prototype to core development to pre-release. This makes quite a useful case study of how to develop a complex product from scratch, manage complexities, and prioritize appropriately. Hey registered 150k accounts in its first month of launch.
Now onto the regular programming 👇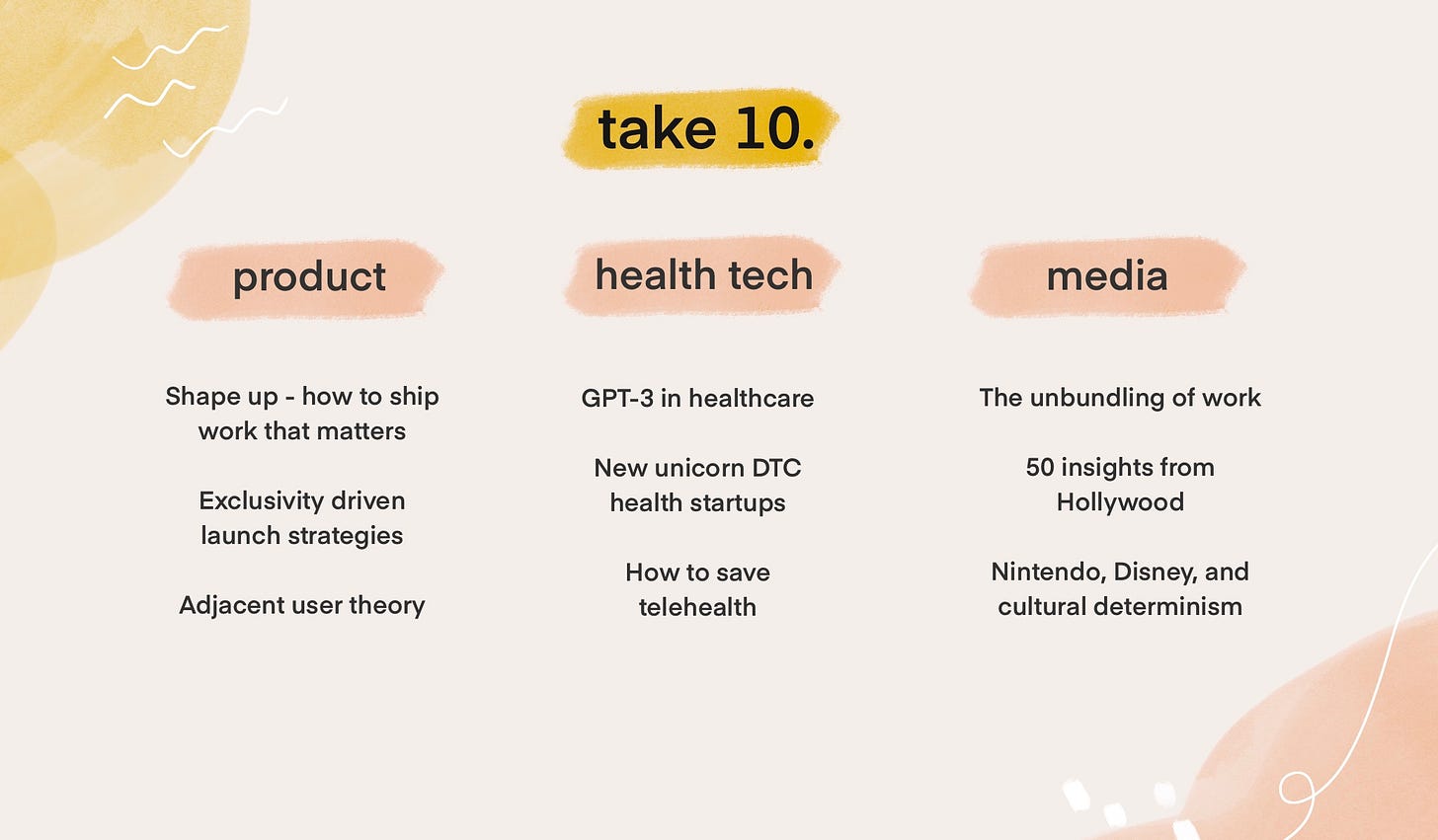 ---
💻 Product
Shape up. This is a short online book laying out Basecamp's way of maintaining the startup cadence of shipping meaningful products. Every growing SaaS company will experience the growing pains of managing feature creep, product complexity, and collaboration between design, engineering, and product. "Shaping" the work means defining a project at the right level of abstraction. The concept is concrete enough for team to know what to do, with room and freedom to problem-solve details themselves. Boundaries and constraints are identified to minimize risk. The amount of work needed is set by appetite instead of estimates. Shape up and stop running in circles!

Velvet rope (exclusivity-driven) launch strategies. There has been a growing trend of new products launching with an exclusivity, velvet rope strategy (Hey, Superhuman, Clubhouse…). It plays on the psychology of wanting what others have and FOMO of not being in the "cool" group. This playbook shares how to plan and execute a successful exclusivity-driven product launch, including using TestFlight, wait lists, invite-only access, and endorsement by influencers.

The adjacent user theory. This growth concept is how Bangaly helped grow Instagram from 400M to 1B+ users. Products must find and convert adjacent users to grow product exponentially. Adjacent users are those who are aware of your product, but could not adopt due to some barriers. They are not necessarily a different persona, rather, they're users in different usage states (eg. power, core, casual, signed up). Sequencing the right adjacent user and solving their problem is how the most successful companies keep scaling their user base.
Eye candy for designer friends: teaser of Superhuman's new calendar:
---
📠 Health Tech
GPT-3 in healthcare. You've probably been seeing demos of crazy things the GPT-3 can do, like a Figma plugin that designs for you. GPT-3 is the largest language model ever created, trained by over 300B tokens of text. Nikhil imagined some use cases for this in healthcare, in areas that are text heavy and time-wasting. Clinical decision support and faster documentation are pretty realistic and creative use cases.

New unicorn DTC health startups Hims & Ro. DTC health company Hims and Hers may plan to go public as it starts expanding to behavioral telehealth services. Hims and Hers are brands built on breaking down the barriers to accessing care, starting with offering direct access to treatments for skin, hair, sexual, and mental health. Since this spring, it has also started offering online sessions with licensed providers to treat anxiety and depression. Ro, a three-year-old DTC health startup wants to build the Shopify for healthcare by catering to customers without health insurance. It recently raised $200M valuing it at $1.5B.

Telehealth boom to slow with the end of PHE. The state of Public Health Emergency (PHE) advanced telehealth by 5 years in a period of 5 weeks. However, with PHE ending soon, many fear the telehealth boom will come to an end. CMS regulation processes are slow. Dr. Ostrovsky, former chief medical officer of Medicaid program, argues that we need a legislative route to PHE and telehealth extension.
---
📣 Media
The unbundling of work. The unbundling of work from traditional employment is giving rise to microentrepreneurship - creators, freelancer, and independent workers who leverage digital platforms to monetize their unique skills. 

Vertical platforms provide "business in a box" for a particular industry, for example, Dumpling dumpling.us for grocery delivery or Substack for writers. These platforms provide the tools needed to turn non-creators into creators. 

Horizontal platforms are industry agnostic, for example, Patreon supports creators who create any kind of content. These platforms meet consumers' need for discovery and supports creators' audience building. 

50 insights from Hollywood. Movies are not just entertainment, they are a rich source to experience insights about human behaviors and societal themes. A movie insight is a new perspective that the film inspires, through its plot and a theme. This library of insights from 50 films are not only philosophical, but also make a great reference for telling compelling stories about the products or content you're making.
Nintendo, Disney, and cultural determinism. There are many commonalities between these two great companies, like their IP flywheel, content culture, and vertically integrated strategy. At the core, they share a culture that obsesses over quality. It set a high, consistent bar for their products, and drove their vertical innovations across hardware, software, and content.
---
If you liked this edition, hit the 🖤and share with someone! Find me on Twitter.
-Christine