Discover more from Double Take
Curated reads about product management, health technology, and digital media.
Take 12. 3-bucket product planning; Amazon's fitness wristband; rethinking the app store
Welcome to this week's Double Take on product, health tech, and digital media. 
There are 2 types of newsletters: original content, and curated content. DoubleTake is obviously the latter. I think unique points of views can be developed from this intentional collection of readings across three very different topics. In our highly content-saturated world, there's inherent value in isolating signal from noise, context from content. Here's more on the model of "curators as creators".
ICYMI: Elon Musk live streamed Neuralink brain implant in pigs. He envisions this AI symbiosis to be a future we'd want, and says "I could have a Neuralink right now and you wouldn't know it." Hmm, that might explain a few things.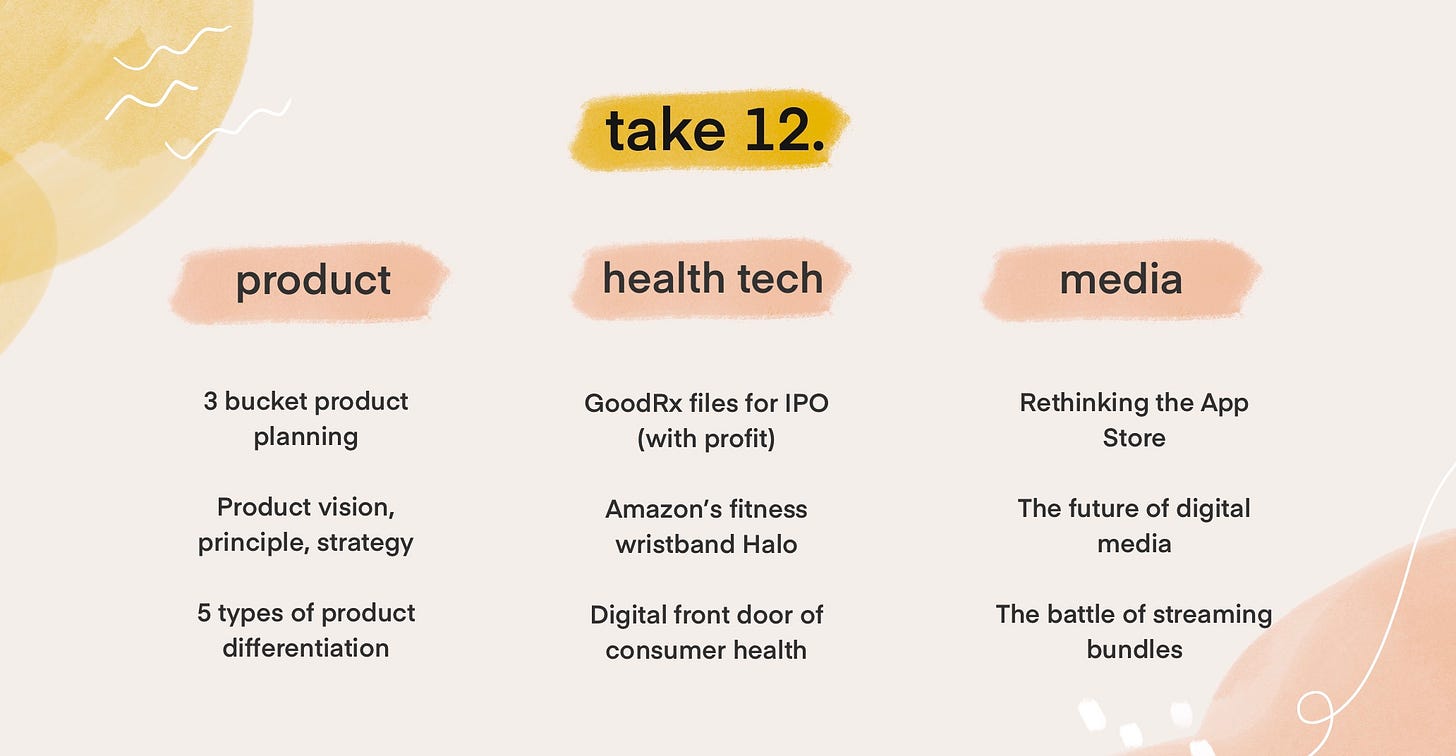 Now onto the regular programming 👇
---
💻 Product
3-bucket product planning. Adam Nash (product at Dropbox) shared his Coda template for how their team streamlines product planning. Instead of falling into the trap of linearly prioritizing features, this approach places feature concepts into 3 buckets: metric movers, customer requests, and delight. This forces product teams to be intentional about why we're implementing a feature. Is it to satisfy growth/business metrics? To strengthen relationship with customers? To enhance emotional attachment with users?

Product vision/principle/strategy. Marty Cagan shared a list of examples of product vision, product principles, and product strategy. Vision: the future you're trying to create with your product. Principle: the nature of the product, what you believe is most important. Strategy: a focus on the most important problem you're solving.

5 types of product differentiation. 1. Feature-based: most common, most easily copied. 2. Policies: requires strong operations, eg. Warby Parker's free home try-ons. 3. UX: allowing users to accomplish more with simpler workflows, eg. easily setting up a store on Shopify. 4. Pricing models: flexible pricing can create huge advantage, eg. AWS offering pay-as-you-go cloud server. 5. Performance: speed and reliability can be hard-to-copy differentiators, eg. Zoom's reliable connection.
📦 Bonus: Atlassian's design system. Atlassian recently shared its design system library, complete with Figma library, components, and patterns.
---
📠 Health Tech
GoodRx files for IPO (with profit). Here's a rare characteristic of fast growing startups going public: profitability. GoodRx offers consumers discount cards to get lower prices for their prescriptions. It makes money by collecting fees from pharmacy benefits managers (PBMs). It aims to solve the age old problem of an opaque, expensive drug supply chain. Cofounder Hirsch had said before, that if America's healthcare system actually changed to an affordable and transparent system, then he'd happily "hang up his hat and move on to another problem".

Amazon's new health tracking wristband?! You heard right, Amazon introduced Halo, it's fitness tracking wristband along with subscription app service, to battle for a piece of the wearable market. Interestingly, it has a unique points tracking system where user can lose points when sedentary. It also comes with "emotional tracking" with tones, which listens to the user's voice and maps the user's emotions throughout the day. "Body" provides a three-dimensional rendering of user's body with information like weight and body fat percentage. The subscription pricing model is also very different from Apple Watch and Fitbit. Halo costs $65 for the band + 6 months subscription up front, and requires a $4 monthly fee going forward.

The digital front door of consumer health. This digital front door represents patients' experiences as they interact with a health system, from awareness, to access, to ongoing management. Building a strategy around their digital footprint provides an opportunity for health systems to engage with patients as they develop increasingly consumer-like needs and expectations. Here are 5 ways to build and master that digital footprint.
---
📣 Media
Rethinking the App Store. The Apple vs. Epic battle makes a beautiful argument about how far a competitive advantage can take a company, and how freedom and control of innovation should be balanced to maintain the best ecosystem for consumers.

The future of digital media. An in-depth analysis by NFX on media marketplaces and how they monetize attention. The comparison of 3-sided marketplace with the ad model vs. 2-sided marketplace with the subscription model was enlightening.

The battle of streaming bundles. Apple announced the rumoured Apple One bundle, with base package to include Apple Music and Apple TV+, and more expensive packages to include Arcade, News+, iCloud storage, etc. Words on the street: it's lacking a lynchpin product that people really want. Amazon launched Audible Plus offering unlimited audiobooks. If bundled with Amazon Music can make it a competitive audio super-app. Then there's YouTube music - which only makes sense as part of YouTube Premium bundle.
---
Thanks for reading! If you liked this edition, hit the 🖤and share with someone. Find me on 

Twitter

.
- Christine