Discover more from Double Take
Curated reads about product management, health technology, and digital media.
Take 13. No roadmaps; great consumer health companies; TikTok drama
Welcome to this week's Double Take on product, health tech, and digital media. 
Fall tends to have a "fresh start" effect on people. Many might've hoped for things to have gone back to normal by now - back to school, back to the office, back to IRL interactions. That clearly wasn't the case. Although, there has been a few interesting releases this fall.
Read Hastings' new book "No rules rules" is finally out, sharing the unorthodox culture and systems at Netflix.
Bessemer published the memos of some of its biggest investments, including Pinterest, Shopify, Twitch, etc. It's actually not easy to learn from success — to differentiate luck from repeatable patterns. These memos offer a rare glimpse into the analysis and thinking behind these investment decisions, during a time when success didn't look as obvious as it does today.
Now onto the regular programming 👇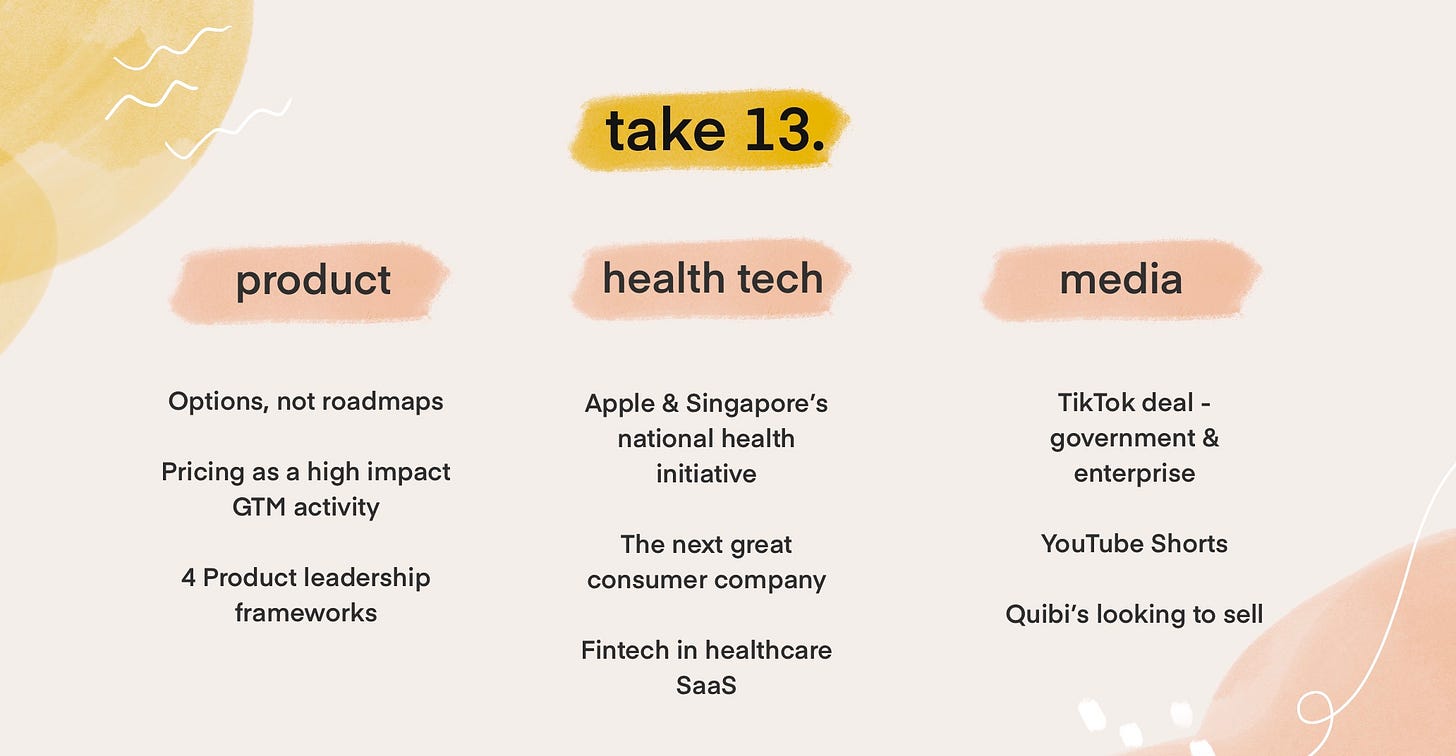 ---
💻 Product
Options, not roadmaps. At Basecamp, there are no roadmaps, only a portfolio of options. Due to uncertainty, expectations, and guilt, the team collects options of things that could be built. The intended advantage is to stay completely flexible to changing plans, and not have promises. This takes away the guilt of not working on a great idea when a greater idea comes up. I think this only works when paired with their "Shape up" method of 6 week cycles. Having even an "impressionistic" style of a roadmap is still valuable for planning and building internal confidence.

Pricing - the most high impact GTM activity. Start with a sticky product, as retention can be more important than acquisition. As features grow, don't be afraid to rework the pricing model and keep it simple. Too much customization makes it harder to automate subscription renewal. And finally, it's important to make the revenue data accessible to the whole team!

4 Product leadership frameworks. Seasoned product leader Ha shared top lessons learned from working at 5 scaling companies in the Valley. The first is how to invest enough time in the problem space before going into solution. Second, there are 4 questions about your product that you must have answer to. Third, a set of product principles to help visualize your priorities. And finally, being clear about your north star metric, as it moves across acquisition to satisfaction. 
---
📠 Health Tech
Apple and Singapore partners in national health initiative. This makes the first time a tech company partners with a nation on a health/wellness program. The program, named LumiHealth, uses the Apple Watch to promote healthy habits in citizens. There are activity coaching and wellness challenges that come with rewards up to S$380 over the 2 year program. The program could serve valuable data points to support public-funded wellness programs if it could prove reduction in overall health-care costs.

The next great consumer company will be a health-focused platform. Consumer health tracking hardware and software brings growingly comprehensive data about people's health. From metabolic health, to mind-body balance, to sleep and fitness, the next chapter of great consumer companies will be focusing on the journey of healthy habits and buying into better versions of ourselves.

Fintech scales vertical healthcare SaaS. Fintech is driving the next generation of SaaS and there're incredible opportunities for health tech products. Many health tech products also tend to be linked with a fin-tech component (think - revenue cycle management, claim processing). Embedding fintech into end user flows can create powerful products.
---
📣 Media
---
Thanks for reading! If you liked this edition, hit the 🖤and share with someone. Find me on 

Twitter

.
- Christine