Discover more from Double Take
Curated reads about product management, health technology, and digital media.
Take 14. Product-promise-market fit; Microsoft's EHR Connect; Disney's Rundle
Welcome to this week's Double Take on product, health tech, and digital media. 
There's a new, thoughtful interview on the Observer Effect with Daniel Ek, founder & CEO of Spotify, who shares his views on time management, the creative process, working in the flow, and more. Many leaders have their calendars scheduled to the minute, while Daniel intentionally sets aside dedicated free time to be available on an ad hoc basis. He thinks this helps make people feel empowered, that they don't need his approval to make decisions but can still reach him when they truly need advice.
Amazon announced its flying Ring camera. That's right, an indoor drone camera that monitors and records disturbances inside your house while you're away. While the market instinctively reacts with privacy concerns, that didn't stop millions of Echos from getting into people's homes.
Now for something fun - what's a better title for a Product Manager? Wrong answers only. (Looks like Jira Jockey is winning. And who came up with "Gandalf"?)
Now onto the regular programming 👇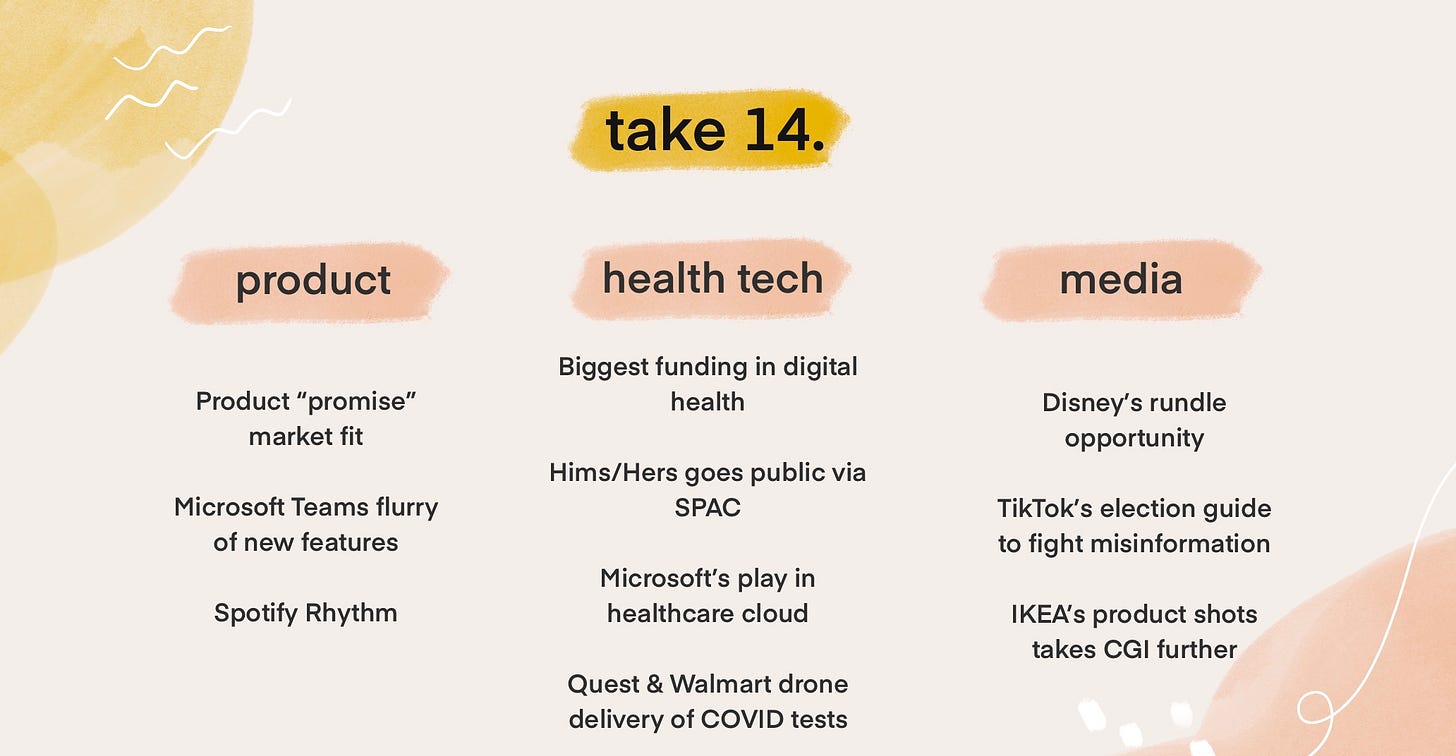 ---
💻 Product
The New Mindset for Product-Market Fit. Even before finding PMF, there's an equality important step: product-promise-market fit. Instead of building an MVP then validate it for fit, it's now easier and more cost effective to test the product promise, ie. language before code. Crystallize the product promise in terms of positioning, pricing, benefits, and value to users, then test it in ad campaigns to validate that it's something people actually want!

Microsoft Teams gets breakout rooms, custom layouts and virtual commutes. Microsoft Teams has been seriously taking on Slack and Zoom this year. A slur of new features including custom layouts, breakout rooms, virtual commutes were recently released. The video-superimposed over screen share functionality looks familiar to mmhmm's https://www.mmhmm.app/ video chat plugin. Integrating a wellbeing "dashboard" with personalized recommendations and integration with Headspace is a smart way to build stickiness to Teams. 

Spotify Rhythm - how to get aligned. The "rhythm" is an alternative to systems like OKRs, that prioritize bets by stack-ranking, based on company beliefs and north star goals. This model also supports the "squad" economy - how Spotify organizes teams and forms its engineering culture. Accompanying presentation here. 
---
📠 Health Tech
---
📣 Media
Disney's obvious bundling opportunity. Consumers don't want more choice. They want to be presented with good choices. Scott Galloway (the biggest champion of "rundles" - recurring revenue bundles) argues that bundles that decrease choice brings the greatest shareholder value. Think Amazon Prime, Apple One, Disney... oh wait, Disney doesn't have one! A Disney rundle would be a no brainer. Imagine one that includes member only access to parks, cruises; branded merchandise delivered to your home automatically; access to Disney+; and even education programs for kids. Scott predicts a Disney rundle announcement in 6 months.

TikTok introduces in-app election guide to fight misinformation. The guide will display on the discover page and in election related search results, to provide information about candidates and how to vote in their state. TikTok has also partnered with digital literacy organization to educate users o how to spot misinformation.

IKEA's product shots taking CGI further. It's known that IKEA's product photos are not the actual objects, but rendered digital 3D models. Now, IKEA is pushing its digital-first advertising further, featuring a popular Japanese influencer who is a CGI creation. 
---
Thanks for reading! If you liked this edition, hit the 🖤and share with someone. Find me on 

Twitter

.
- Christine