Discover more from Double Take
Curated reads about product management, health technology, and digital media.
TV review: The Leftovers
Why we run away
You know that feeling when you work obsessively hard on something as if your life depended on it, and end up feeling lost and dissatisfied in the end?
It doesn't seem to make sense. If you pursued it with a dedicated clarity that it was important to you, then why does it feel empty when you've made it?
*Spoilers ahead for The Leftovers.*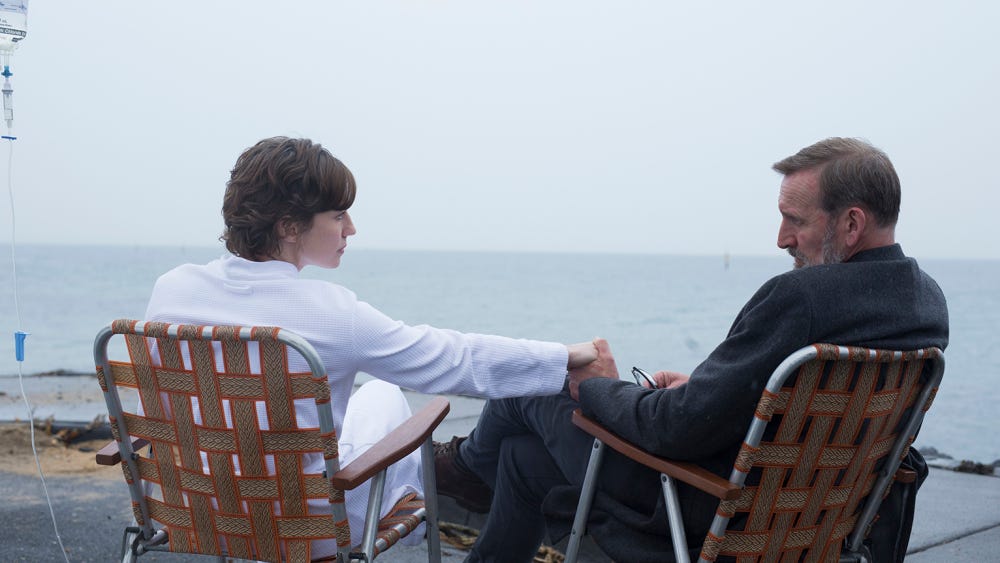 The Leftovers made sense of this mismatched experience through a tastefully ambiguous story. (It's probably the best TV show I've ever watched.) It was a story about how easily we forget to nurture love, how easily we adopt beliefs that favour our narrative, and how easily we run away from our problems.
The Leftovers started off with a supernatural premise, where 2% of the world's population suddenly vanished (ie. "the Departure). The ones left behind are forced to cope with this ambiguous reality and a tortuous lack of closure. The crazy thing is, the explanation for this bizarre event doesn't actually matter. It's more profound to see the extent people would go to create new narratives for themselves to believe in to feel better. They start to make up important missions to give meaning back in their lives, when in fact those are just a heroic front that keeps them from confronting their grief and fears head on.
Why do we run away?
Because it's easy. It's easier than admitting that you might be the problem, not the universe. It's easier to ask "why is this happening to me?", than "why do I feel this way?". When things aren't going the way we planned, we start feel a loss of control. To evade the responsibility of taking control back, (which takes effort), it's easier to put the responsibility on external factors. It's easier to point a finger to other people, the situation, the universe, and conclude they are doing this to us.
But the subconscious will remind us that we actually do have control and agency to face our reality. And it's only when we do, that we can finally find peace. This was the most profound realization and closure by the end of Season 3 for all the characters we cared deeply about: Kevin, Nora, Matt, Laurie, John, Kevin Sr.
Run towards the fear
Kevin had been running away from his un-plucked splinters with his marriage with Laurie since the beginning. In fact, the show starts with him literally running, and sneaking a smoke outside as he promised Laurie that he had quit. He didn't lose anyone in the departure, but started losing his family through his own reckless actions. Nora represented a chance for new beginnings for him, but he again ran away from confronting the unspoken problems between them. When he finally realized this in Season 3's The Most Powerful Man in the World, he finally destroyed the place of escape "the purgatory". He was finally going to run towards the fear and look for Nora.
Nora is such a bad-ass isn't she!? She lost her whole family (husband and 2 children) to the Departure. She's tough, independent, and starts to find a new beginning with Kevin and Lily, their adopted daughter. Lily may have been a distraction, or substitute, to her grief towards her children. So when she lost Lily, the wave of grief consumed her. She was forced to face her fear of loss by finally pursuing this machine that'll take her to find her children.
Matt's arc was probably my favorite. Matt had gone through a ton of hardships in life, so he attached agency to his religion and faith to give purpose to these hardships. His obsession led to miracles like his wife Mary coming out of her coma and having a son. But his complete compliance to religion also ultimately drove her away. It was until Season 3's It's a Matt Matt Matt Matt world that Matt realized the hypocrisy of his beliefs. His monologue with Nora in the season's finale The Book of Nora was the perfect depiction of one finally facing his fears:
"I'm scared of what'll happen when I go back to Mary. I'm scared of the chemicals they'll put in my body, I'm scared it wont work. I'm scared of dying. I'm scared my son will grow up without me, forget my face, forget the sound of my voice. But most of all I'm scared I'll survive. Because if I do, how can I ever stand in front of a roomful of the people and convince them I have the answer when I have no idea what the fuck I'm talking about?"
In all of these characters' narratives, they were busy dedicating their lives to some seemingly important cause. It could take the form of a cult, a religion, or an important mission. But ultimately, these were just man-made distractions to the real problems they've been avoiding to face. The Leftovers is a profound reminder for us to check-in with our convictions, obsessions, and goals. Are they actually aligned with what's important in the bigger scheme of things, or are they a cover-up to avoid a deeper fear? If it's the latter, then run towards it. The bigger the fear, the harder we should run towards it.
Christine